Bridget Riley, Chris Ofili and Rachel Whiteread offer touching idealism while others slip into self-conscious sentimentality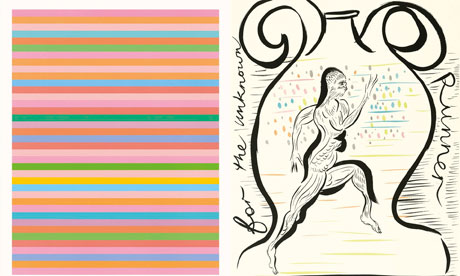 Martin Creed
is going to have a good Olympics. Not only is Work No 1197, his proposal to have "All the bells in a country rung as quickly and as loudly as possible for three minutes" on the first day of the games, likely to prove the most appropriate, elegant and magical public artwork of 2012, but he also comes up trumps among the artists who have designed posters for the sporting event that will dominate our lives next summer.
Creed likes to paint layers of rectangles in bright colours that always make me think of arthouse cinema posters for some legendary 1970s film. This is a continuing series of abstract works, part of his enigmatic conceptual project of creating a numbered and interrelated corpus of art.
It just happens to be his good luck – OK, his astute and apparently effortless recognition – that his stepped design resembles in such a nice way the winners' podium at the Olympic Games.
No one will have any trouble seeing this image in his abstract painting, which is likely to make it one of the most effective posters. Not all are going to be as universally popular. Are these aimed at art fans or athletics fans? As an art fan, I find
Bridget Riley
's poster beautiful. But will it say much about the games themselves, or just inspire lots of arguments along the lines of "I know it's art, but is it a poster?"
Rachel Whiteread
has not taken any chances. Her web of bright circles is a riff on the Olympic symbol of interlinked hoops. What connects it with her artistic touch is the use of a simple printing method to make the circles: Whiteread works with the given stuff of the world around her.
This too will be a winner, I suspect, as will
Chris Ofili
's very different effort, a powerful and overtly emotional graphic design. In fact, Ofili is at his very best here, passionate and engaged, and this may be the poster that truly lives in memory as an image of the
London
games.
There is a touching idealism about all the posters that leading artists have created. Sometimes that slips into self-conscious sentimentality that makes the designs by
Tracey Emin
and
Bob and Roberta Smith
seem egotistical and, frankly, self-indulgent.
But to see
Howard Hodgkin
, grand old man of sensuous painters, reach into the deep blue to create a dreamlike metamorphosis of athlete and water, the diver and the pool, is beautiful. This is more poetry than mere poster.
Olympic posters are an art form in themselves, and great ones endure as modern icons. Inviting a gaggle of artists to design these may seem a superficial bit of outmoded British art boosting, but in reality it is a romantic restatement of the Olympic ideal, inviting artists to imagine the forces of human effort and natural capacity that have always made sport a theme for modern art (think of cubist portraits of cyclists and Picasso's beach ball scenes).
On these grounds, the most introspective, serious and moving of all these posters has to be
Fiona Banner
's design for the Paralympics, a painted prose poem about the wonder of human, or superhuman, achievement.
Published online by theguardian 4.11.11